CHANGE OF VENUE
The Millennium Hotel has new management who have substantially increased the price of our luncheon buffet and added a room charge. This would increase our luncheon cost to nearly $40/person! Therefore, Paul and I have explored many possible options for food and location of our meetings.  We have found a venue and caterer who feel you will be pleased with:
New Venue: The Best Western Boulder Inn, 770 28th St., Phone: (303) 449-3800
New Food Service: CU Catering Service with many food options.
New Price will be $25/person which includes Vegan, Vegetarian and Non-gluten options.
It is now CRITICAL that those attending let Paul know at least 4 days in advance or there may not be food available for you, since we can not go back to the kitchen for more. Please help us out!
After all our research we have concluded that (at $20) we have had a very good deal at the Millennium for the last several years and that a price increase was due. Most catered buffets are $30 or more and hotel food service is even more. CU Catering Service is the most reasonable. If any of you know of a better location or better food service for the money, we are glad to know about it.
Please Note: We are also considering moving the meeting date to Sunday afternoons because we have had a number of requests. We think that Sunday may attract more working people and students. This will be a subject for discussion on Nov. 18. We will be glad to hear your comments, pro and con.
Gene Milstein
Paul Sperry
ABSTRACT
In this latest SSE presentation, Rich Haas, will relate 24 updated metaphysical principles of ancient wisdom with 12 new scientific discoveries including Einstein, quantum theory, string theory, multidimensional physics and more. Insights into the "unseen" 96% of the cosmos will be presented, including…
Understanding how recent scientific breakthroughs have confirmed that consciousness could not be generated within a materialistic brain's neurons and synapses.
Grasping the metaphysical connections to Einstein's relativity and his famous equation E=MC².
Understanding that the vast storehouse of knowledge described by both Einstein and Tesla as the source of their insights is what metaphysicians throughout history have called the Akashic Records.
Comprehending how multiple recent scientific studies have confirmed that consciousness survives the death of the body and brain.
Appreciating how Einstein's space-time continuum is the 1st step in confirming the ancient wisdom of the astral planes.
Becoming aware of how 11-dimensional membrane theory was predicted in writings that predate Jewish Old Testament scriptures.
Learn how string theory may be confirming the metaphysical vibrational universe that metaphysicians have described throughout history.
In the 1600's, science made a huge mistake in excluding spirituality and ignoring ancient wisdom. Now that science has verified many of those metaphysical insights, we can begin to re-create a better society and universe.
Writer and metaphysician Rich Haas, B.A., CHT, CHt, CHI, CLBLT, operated a successful science-based metaphysics practice in Morrison, Colorado for many decades. Rich received a psychology degree from San Jose State University in 1975. He is a dual certified hypnotherapist (NGH and NATH), certified hypnotherapy instructor, and a certified Life-Between-Life therapist. When Rich was researching recent scientific discoveries, he was amazed to discover that many of them were verifying ancient metaphysical wisdom. Those interrelationships are the focus of his book Sacred Quantum Metaphysics. More information is available at www.SacredQuantumMetaphysics.com, including a free download of "Awaken the Enlightened Master Inside You" meditation. Rich welcomes your thoughts at Rich@RichHaas.com.
REFERENCES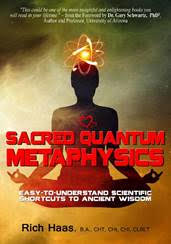 Rich's book Sacred Quantum Metaphysics is available on Amazon and in bookstores. Dr. Gary Schwartz, professor of psychology and medicine at the University of Arizona and author of The Afterlife Experiments, noted that "This could be one of the more insightful and enlightening books you will read in your lifetime."
———————————————————————-
NOTE:  MY EMAIL IS CHANGING from Paul.sperry@comcast.net  to pdsperry@gmail.com   PLEASE UPDATE YOUR RECORDS
To RSVP for the Friday luncheon please contact: Paul Sperry at pdsperry@gmail.com or 303-817-2163 (TEXT RSVP is fine!)
To sign up for our mailing list, please send your name and email address to pdsperry@gmail.com
Cost for the lunch and lecture is $25, payable at the door. Please let Paul Sperry know if you can come and if you will be bringing guests.
It is really helpful if you can arrive early (11:00 am) to find a seat and partake in the buffet so we can start promptly at 11:30 am.
———————-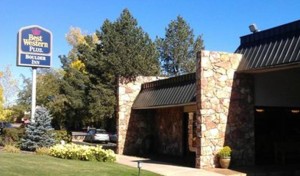 The Best Western is just a half mile south of the Millennium Hotel near both highways 36 and 93. Take the Baseline exit off highway 36 or turn east on Baseline from highway 93.