Friday, April 4th,2014 @ 11:00 AM  Presentation Starts at 11:30 AM
Topic: High Strangeness UFOs
Presenter: John Schuessler
Abstract – UFOs appear to be the product of a technology that integrates physical and psychic phenomena and primarily affects cultural variables in our society through manipulation of physiological and psychological parameters within the witnesses. That is why we need to move on past trying to prove UFOs are real, accept the fact that extremely good investigations have already exposed that reality, and stop discarding data that does not fit our current paradigm. This presentation will examine the residue of valuable information that falls into the category of "high strangeness."
Bio: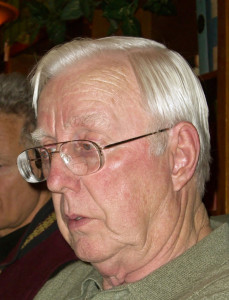 John Schuessler has been active in UFO investigations and research since 1965 when he joined the Aerial Phenomena Research Organization (APRO) as an aerospace consultant. In 1969, he became a founding member of the Midwest UFO Network, later to be known as the Mutual UFO Network (MUFON), and accepted the position of Deputy Director for Administration. After retiring from the aerospace industry in 2000 he became the MUFON International Director and held that position through 2006. He is a current member of the MUFON Board of Directors and serves on the MUFON Science Advisory Board. He has authored more than 150 UFO documents, has three published books and has appeared on more than 100 radio and television programs.
John's main interest is in the advanced technology characteristics displayed by UFOs, especially in the areas of propulsion, invisibility, stealth, materials, and physiological effects on humans, plants and animals. With MUFON receiving between 500 and 700 UFO reports each month, there is no shortage of current incidents for study, adding new information to the vast number of past high strangeness incidents already in the archives.
Location:
Millennium Harvest House
Boulder
1345 Twenty-Eighth Street
Boulder, CO
USA 80302-6899
T: 1 (303) 443-3850
At the Millennium we will be in "The Millennium Room" to the left of the main desk. The hotel is providing a gluten-free hot buffet including both meat and vegetarian choices for $20.00.
Please let Paul Sperry know if you can come and if you will be bringing guests. It is really helpful if you can arrive early to partake in the buffet so we can start promptly at 11:30.
paul.sperry@comcast.net
303-817-2163 Cell