VIDEO OF PRESENTATION: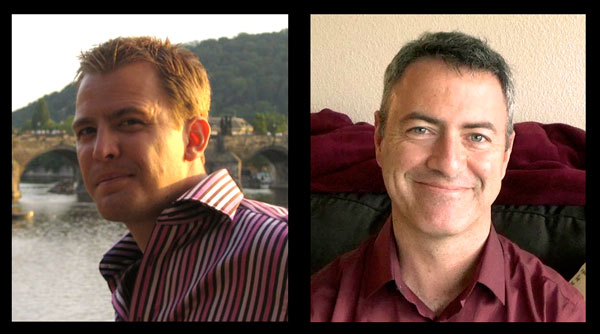 Damon Abraham and Sean McNamara
Abstract:
When it comes to out-of-body experiences, group intention experiments and other psi abilities, researchers have difficulty obtaining a satisfactory amount of objective data as evidence for their existence. In contrast, psychokinesis, also known as mind-over-matter, offers a great opportunity for scientific observation.
Subjects can mentally move an object from a distance on command, and repeat the experiment many times before reaching boredom or exhaustion. The object's movement is easily observable with the naked eye. We can take the subject's EEG, skin conductance, and other physiological readings during PK experiments. Random event generators can be placed nearby so as to measure changes in ordinarily random processes, changes caused by the presence of active human consciousness.
In this presentation, Sean will share an effective method for learning PK (anyone can do it), and the broad implications this ability has for the human condition. Damon will review results from initial PK experiments which tested whether macro-PK effects correlate with significant deviations from randomness (i.e., micro PK) using a random number generator (RNG). HD webcam video of the foil psi-wheel object's motion was recorded during periods of PK intention and temporally synchronized with the RNG's data stream. Finally, we will discuss possible future directions in terms of both applied and laboratory research.
Bios:
Sean McNamara is the author of "Meditation X: Telekinesis" and "Defy Your Limits: The Telekinesis Training Method." In 2014, he trained himself in PK, and then devised an efficient protocol for teaching it to people in under two hours. Through his books and videos, people everywhere are learning McNamara's PK protocols. He hopes this will support greater collaboration between scientists and practitioners.
Sean is a licensed massage therapist and energy healer, and has a bachelor's degree in computer science. He also teaches meditation, remote viewing, PK, lucid dreaming, and how to have an out-of-body experience to groups in Colorado. To watch videos of Sean performing various PK experiments, visit www.MindPossible.com.
Damon Abraham is working towards a PhD in psychology and studies the mental representation of emotion. He also moonlights as a consciousness researcher designing and conducting psi-related experiments in areas such as remote viewing (RV) and mind-matter interaction (i.e., PK). Aside from research, Damon and his collaborators are currently developing software applications geared towards psi and personal growth and development including an RV training app and applications utilizing random number generators. He has presented his psi research and theoretical work at several national conferences including the International Congress on Consciousness (ICC), the Society for Scientific Exploration (SSE), and the International Association for Near Death Studies (IANDS) as well as locally. In Denver, Mr. Abraham serves as a group leader / coordinator for the local IANDS chapter, is a co-organizer for Consciousness Hacking, and is the co-founder of the Denver Consciousness Technologies organization.
---
Cost for buffet luncheon and lecture is now $25 (same price without lunch).
We can accept CASH or CHECK only – payable at the door.
Friday, January 11, 2019
 Presentation starts at 10:15 AM  & Buffet begins at 12 NOON
LOCATION:
Nissi's Entertainment Venue & Event Center
2675 Northpark Drive Lafayette, CO 80026
(On the SE corner of 95th St and Arapahoe Rd)